La Crosse Tent and Awning
From wedding day events and outdoor celebrations to business meetings and private parties, La Crosse Tent and Awning is your "one-stop-shop" for anything and everything you need to make your event truly special.
Frame Tent Rentals
FUNCTIONAL, FLEXIBLE, AND AFFORDABLE FRAME TENTS
FROM LA CROSSE TENT AND AWNING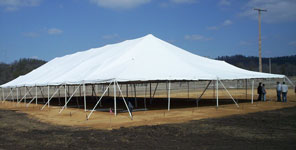 Frame tents combine functionality with flexibility!
This type of tent is composed of a series of interconnecting metal pipes, which fit together to form a frame in the shape of a tent.
The white vinyl top then is strapped to the frame, and the structure is secured at each of the corners with a rope connected to a stake.
The metal frame structure eliminates the need for a center pole, which frees up space for tables, chairs, and other equipment.
La Crosse Tent and Awning can provide the setup of a frame tent over a driveway or cement area, as long as there is grass around the perimeter so the stakes can be driven into the ground.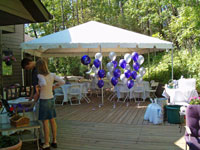 La Crosse Tent and Awning can also provide deck installation of our frame tents. This type of installation requires a site inspection to ensure the tent will fit properly.