La Crosse Tent and Awning
From wedding day events and outdoor celebrations to business meetings and private parties, La Crosse Tent and Awning is your "one-stop-shop" for anything and everything you need to make your event truly special.
Kwik Cover Table Rentals
KWIK COVER FOR OUTDOOR TABLES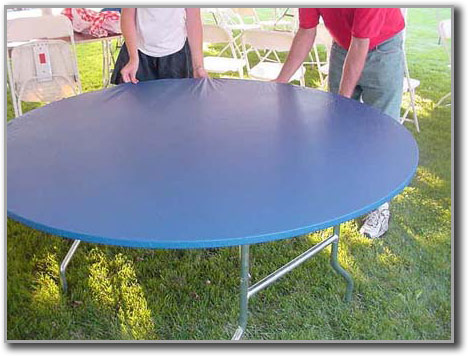 The days of taping down plastic table cloths on a windy afternoon are over!
Kwik Covers are the latest innovation in outdoor table coverings, eliminating all the worry and trouble with trying to keep a tablecovering on the table during an outdoor event on a breezy day.
The elastic fits conveniently around the edges of the table (like a fitted bed sheet), without using staples, tacks, and tape, like you normally would with a regular plastic table cloth. We have Kwik Covers to fit 6' buffet tables (available only in white), 8' buffet and 5' round tables, available in 8 different colors: White, Black, Red, Royal Blue, Forrest Green, Yellow, Purple, and Orange. Perfect for graduation parties, informal events and back yard parties.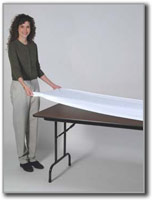 Also available are Kwik Skirts, a Kwik Cover and tableskirt in one package! The Kwik Cover in the package fits an 8' buffet table, and comes with Velcro along the sides. It also includes a plastic tableskirt to fit the front and two short sides of the table; currently available only in white.